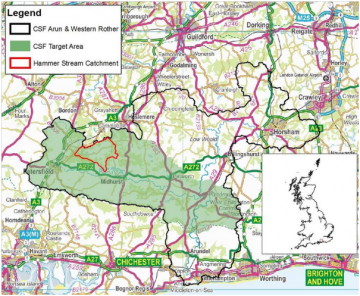 The Hammer Stream farmer/landowner participation project builds upon previous research work undertaken by Defra on rural diffuse pollution (e.g. Entec 2010), which looked into the merits of non-scientist stakeholders (e.g. landowners, farmers) undertaking self-monitoring as a means of helping to engage/empower local people about the issue of diffuse pollution. Such research sought to ascertain whether meaningful data to help manage the problem could be obtained and to assess whether it encouraged farmers/landowners to take voluntary action or seek out further advice to minimise their diffuse pollution impact.
Aims and Objectives of the Project
To ask landowners/farmers to monitor on a weekly basis the water quality of their field drains in respect of nitrogen (N) and suspended sediment (SS). Monitoring was to be undertaken across 3 or 4 fields over a 12 week period, from early November 2012 to late January 2013.
To assess through the self-monitoring project whether this approach increases local stakeholder awareness, understanding and ownership of diffuse water pollution from agriculture, providing a direct link between agricultural land-use and local water quality.
To help understand, through the project, how farmers/landowners respond to information about how their activities affect local water quality (e.g. do they then take up voluntary actions to remediate the effects, or contact CSF/other organisations to help improve performance?).
It is recognised that the data gathered is not likely to be scientifically robust as the monitoring period was over a limited period of 12 weeks, during late winter, and the low-tech/low-cost field kits are neither highly accurate nor precise. The focus of this study is as much about the potential benefits of bringing together local farmers/landowners to discuss the issue of diffuse pollution and what can be done about nutrient leaching and soil/water runoff as it is about the resulting data.
Download the full report (PDF 1MB)