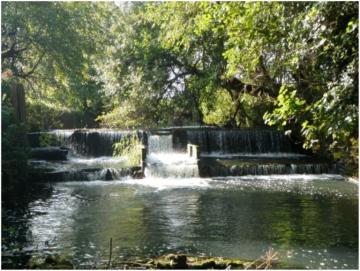 Over many years the water environment in Arun and Western Streams has been modified to support agriculture, industry, navigation, abstraction, recreation and flood protection. These uses have resulted in significant changes to the natural characteristics of our environment, with negative consequences on wildlife.
In stream structures such as weirs present a barrier to the movement of animals, especially fish, throughout the catchment. This limits the amount of available habitat for wildlife, and prevents fish reaching spawning grounds. Where possible structures should be completely removed. However, this is not always achievable and instead a fish pass can be installed to enable fish to swim over the barrier. Across the catchment there are over 50 structures which need to be addressed, with the highest concentrations found in the upper Arun and River Rother. Some sites have already been improved, for example a fish pass has been installed on a weir at Hardham through the ARC project and we are expecting to see increased fish numbers over the coming years.
Historically, watercourses in the catchment have been straightened, over widened and dredged for many purposes including flood protection, industry and navigation. These changes to the natural environment can be very damaging, reducing the abundance and diversity of wildlife able to survive in our rivers. There are many sites within the catchment which need to be restored to their natural state. For example, restoration work will soon start on a 13.5km stretch of the River Arun, below Horsham through the ARC project.
Over 400 million litres of water are authorised to be abstracted each year from the rivers, groundwater and coastal areas in Arun and Western Streams catchment. The majority (58%) of the water supplies the public, but water is also used in agriculture, industry and amenity. In some cases too much abstraction can occur, which results reduced flows in our rivers which can be extremely damaging during periods of low rainfall. Some areas of the catchment are a greater risk from low flows. For example, on the River Ems, Portsmouth Water are working with the Environment Agency and local landowners to improve a flow support scheme and make habitat more resilience to reduce the impact of their nearby abstractions.