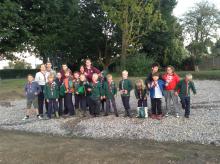 Over 20 cub scouts became ARC project volunteers this week, planting wildflower seeds in and around a recently created rain garden in Horsham.
The rain garden, which is designed to capture excess surface water, was designed by the Green Infrastructure Consultancy in partnership with Horsham District Council and installed at Bennett's Field in Horsham last month by Brierley Groundworks. It is the second rain garden to be created in West Sussex this year through the Heritage Lottery funded Arun and Rother Connections project. The first was in Littlehampton and a third is planned for Pulborough. 
Rain gardens are small-scale features that capture rainwater runoff from buildings, pavements and other hard surfaces, and which then temporarily store, clean and slowly release that water back into the soil or drainage system, helping gardens and towns to deal more effectively with heavy rainfall.
The garden is also designed to be wildlife friendly. The wildflowers planted by cubs from the 5th/10th Horsham Scouts will grow to attract bees and butterflies in the spring, and other creatures such as dragonflies, birds and even frogs will be attracted to the shallow water. The cubs are keen to monitor the garden and record wildlife they find over the coming months and years.
It is hoped that this project will inspire other local communities to develop similar projects to manage water and make spaces for wildlife in their own villages and towns.